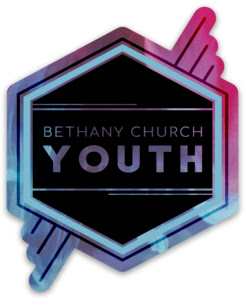 At Bethany, our youth ministry is a smaller community within the church that focuses on the unique issues for the life of a teen.
On Sundays, the youth join the adults in service for worship and teaching. Then each week on Wednesday nights, students in grades 7-12 are welcome to join us for Youth Group. A typical Wednesday night includes games, worship, Bible study and small groups. It is a fun environment where everyone is welcome!
Join us on Wednesday nights 7 PM – 9 PM in the youth room upstairs.
From every side students are being bombarded with messages of what they should believe and how they should behave. We want to walk through that with students, helping them to work through the difficult decisions that they face while keeping their eyes fixed on Jesus. We are all about Jesus and believe that the entire Bible points to him. Because of that, everything we do will be flowing from our love of Jesus and pointing people toward him. Our goal is to instill a love for Jesus into the hearts of students while helping them to take seriously the call of Jesus on their life. We hope to do this by partnering with parents, developing meaningful relationships and teaching solid Biblical truth.